How I Became an Instructional Designer: Xanthe
In the last few years I've noticed an increase in the number of questions that I've been asked by visitors to Arizona State University about the Instructional Designers on our team, Instructional Design & New Media, in EdPlus. People want to know about their backgrounds and academic credentials, how we find them, how we hire them, how they work as a team, how they manage their workloads, and more. It occurred to me as I answered these questions that there is a lot I don't know about how the Instructional Designers in our group arrived at their jobs. I decided to interview some of the team to find out more about the paths they've taken to get here. Along the way, I was fortunate enough to have access to some of our colleagues at King's College, London, with whom we work as part of the PLuS Alliance. In the end, I was able to interview six Instructional Designers from ASU and three from King's College. During a six month secondment in Sydney, Australia, Renee Pilbeam, an Instructional Designer, Sr. on our team, was able to interview three colleagues from our other PLuS partner, University of New South Wales.
The following includes highlights, pivotal life moments, and milestones that came out in the conversations. One post in the series will be published here at the TeachOnline website each week for three weeks.
Xanthe – Sydney – Australia
I was born in Sydney, at Royal North Shore Hospital, but I grew up in the country. I spent my first five years in a small country town called Grafton, which was on a massive river in the north of New South Wales. Then we moved to a property just outside of Armidale and spent the next six years on a farm. After that, I attended boarding school in Armidale for another six years.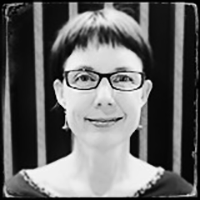 After leaving school, I started out in an economics degree at this university (UNSW), actually, but because I had come straight out of boarding school, I wasn't really ready to settle into a degree. That was a bit of a disaster, and I spent a couple of years in the "wilderness," wondering what I wanted to do. Eventually I settled on pursuing a Bachelor of Arts, majoring in English and performance studies.
It was during that time that I completed the Cambridge qualification in teaching English as a second or other language. To be honest, it was the best course on teaching I had ever taken. It taught us about the three Ps — presentation, practice, and production — which are the foundation of language teaching. The concepts, however, underpin a lot of teaching practice. As a teacher, you present the concepts and then you get students to practice them. Ultimately, they should be able to move to a place where they can produce things freely and in different contexts. After I completed that qualification, I ended up qualifying as a teacher, so I took an appointment as a high school English and drama teacher.
I did some casual teaching and then taught for a year in a public boys' school. To be honest, I didn't love face-to-face teaching in the high school system. It felt more like crowd control and discipline took up more of my time than actual teaching. So I went back to TESOL teaching. Then I worked for various private colleges and ended up at TAFE, which was my last English teaching job before I went on maternity leave.  Just prior to going on leave I was using a PBS documentary called Growing Up Online as a teaching resource. It was a real eye opener for me. It looked at various group of kids in the United States and the way that they're socializing online, and it also illustrated the shift towards learning online. They interviewed various teachers at different schools, some of whom were adapting to the changes while others weren't. I just remember this one teacher saying, "I'm going to be a dinosaur in five years' time. What I do is going to be obsolete, and if you don't adapt, then you're basically going to go the way of the dinosaurs." That really hit home, and while I wasn't a very technologically savvy person at all, I felt like I had to get onboard with the shift toward online learning. It was really impactful; it kind of rang alarm bells for me.
Whilst on maternity leave I began looking into Master's degrees and found an excellent program at UTS, a Master of Arts majoring in eLearning. When my daughter was ten months old, I enrolled and started working toward my degree at UTS.
That program was fantastic. It introduced me to the field of instructional design and to a lot of the theoretical underpinnings of instructional design. That is when I realized that I wanted to be an instructional designer.
It was also at that time that I started learning about Moodle and decided to specialise in Moodle course development. Then a job came up at the School of Public Health and Community Medicine, at UNSW, and I applied. They hired me, and I just haven't looked back. I love it here; I love the work.
I was the School of Public Health's educational designer for two and a half years. It was at a time when the university was moving from Blackboard to Moodle, so I was part of the whole transition. I feel like I had the opportunity to actually learn on the job and develop my own style of instructional design.
Now I'm leading a team of educational developers working on Medicine courses to enhance them for blended and fully online delivery as well as leading a team to develop the Bachelor of International Public Health, which is being offered in the PLuS Alliance.
My daughter is eight now, and I had my son while I was completing my Master's degree. Having kids has been amazing. It causes such a big shift in where you are and what your focus is. Even studying while they were so small was such an incredible experience. I had so little time to study that I would hand my daughter over to the babysitter so I could spend four hours at the local library. That was my study time. I had to be really focussed – there was no time for procrastinating.
There's a fascinating paradigm at play where I am at the moment. We've purposely employed people who are not instructional designers, but they are experts in the disciplines in which they're designing. So we have quite a few PhD students who are not actual instructional designers but, rather, come from a biomedical background or what have you. It raises the question, do you need content knowledge to be an instructional designer, or is it more important to have the skills and the underlying pedagogical principles? I think most of our team have gotten up to speed really quickly, because they're smart people anyway. I believe it puts the role of the instructional designer in a precarious position, because what are we saying it is that we do. What value do we bring?
Renee: What one piece of advice would you give to your 18-year-old self?
Take your time, don't rush, work out what it is you really want to do, and don't waste time and money doing something that you are not passionate about. At the same time, however, you never know where things are going to lead. The fact that I had the chance to teach has been very valuable in terms of what I'm doing now. So I think the crooked path sometimes leads to more interesting places.
Additional editing: Debra Sims