Ten Teaching Trends from the Innovating Pedagogy Report
How are today's most innovative educators engaging with their students? The 2015 Innovating Pedagogy Report proposes ten innovations that explore ways of teaching, learning, and assessment for an interactive, engaged world.  The report is the fourth of its kind, produced in collaboration with SRI International and The Open University. The full document details several examples and studies to support these innovations. Below is a summary of those innovations: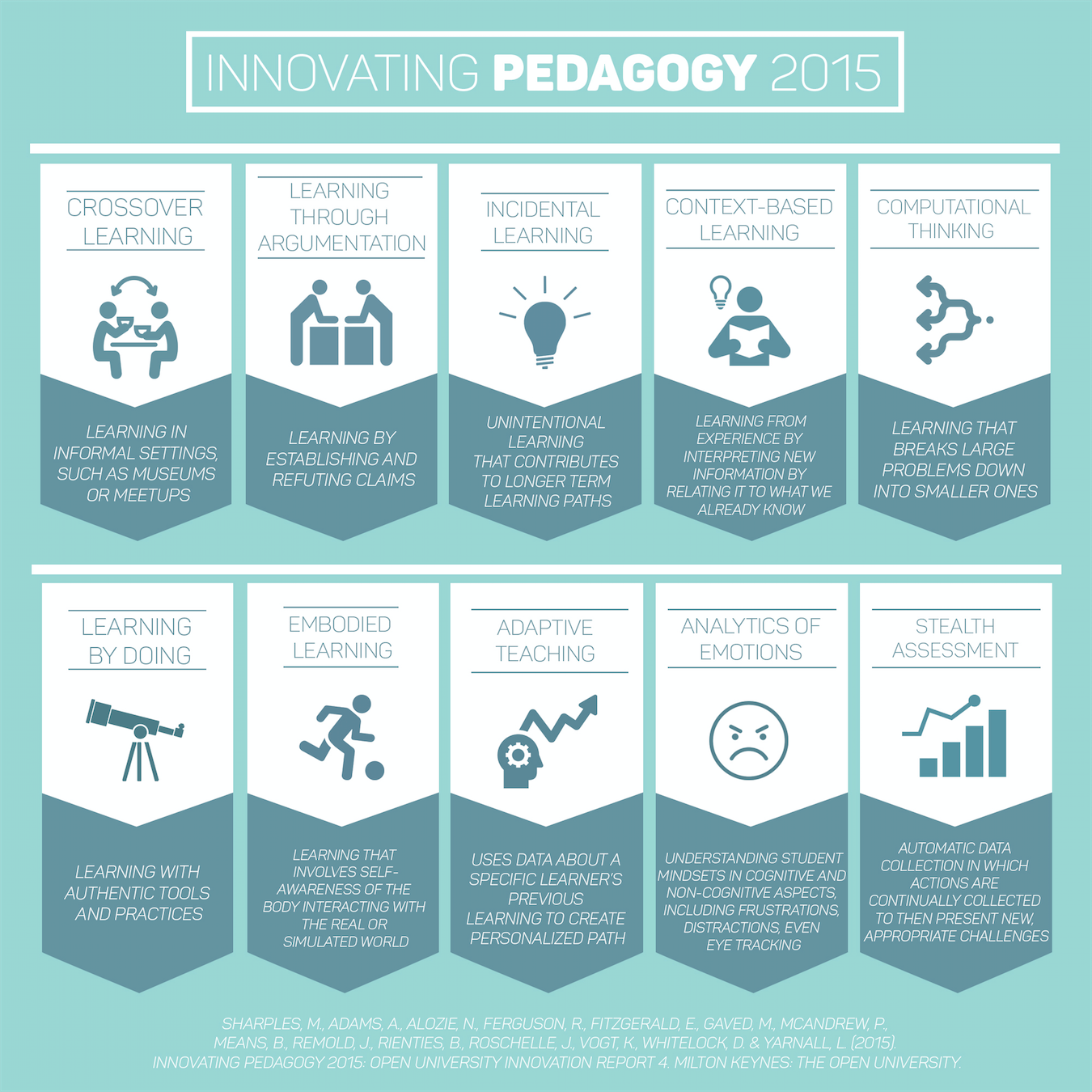 Crossover Learning: Learning in informal settings, such as museums or meetups. Such settings can spark further interest and motivation to learn.
Learning Through Argumentation: Learning by establishing and refuting claims, in ways similar to professional scientists and mathematicians.
Incidental Learning: Unplanned or unintentional learning that contributes to longer term learning paths, often via technology, especially mobile.
Context-based Learning: Learning from experience by interpreting new information and relating it to what we already know. For example, students interacting with surroundings other than a lecture hall, that relate to the given topic.
Computational Thinking: Learning that breaks large problems down into smaller ones, uses pattern recognition, algorithms, abstraction, and debugging for problems that aren't even related to math or science necessarily.
Learning by Doing: Learning with authentic tools and practices. The traditional example is the science labratory. New, technology-enabled examples have emerged involving remote labs, and adaptive simulations.
Embodied Learning: Learning that involves self-awareness of the body interacting with the real or simulated world, in a way that the mind and body work together so that physical feedback and actions reinforce the learning process. Think interactive surfaces with multi-touch screens or wearable devices like Google Glass.
Adaptive Teaching: Uses data about a specific learner's previous learning to create personalized paths.
Analytics of Emotions: Understanding student mindsets in cognitive and non-cognitive aspects, including frustrations, distractions, even eye tracking.
Stealth Assessment: Automatic data collection techniques (such as in games like World of Warcraft) in which actions are continually collected to make inferences about the particular student's goals and strategies, to then present new, appropriate challenges.
Are any of these innovations present in your course? Which innovation might you tackle in the upcoming semester?
Source:
Sharples, M., Adams, A., Alozie, N., Ferguson, R., FitzGerald, E., Gaved, M., McAndrew, P., Means, B., Remold, J., Rienties, B., Roschelle, J., Vogt, K., Whitelock, D. & Yarnall, L. (2015). Innovating Pedagogy 2015: Open University Innovation Report 4. Milton Keynes: The Open University.